Need Valentine's Day Inspiration? Olema Wines + Volo Chocolate Pairings
Complete your Valentine's Day with Olema wines paired with bean-to-bar Sonoma County chocolate.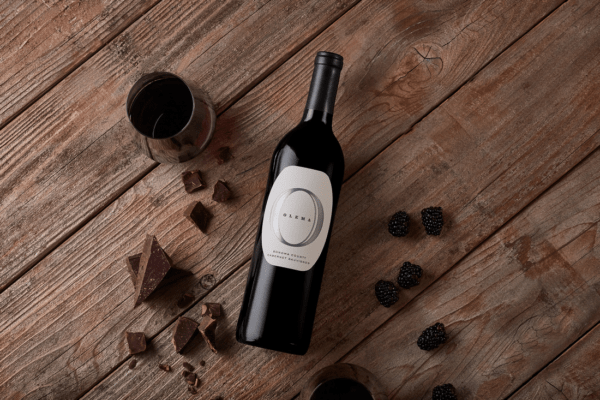 Whether you're planning a cozy night in with your sweetie or you're in search of the perfect gift for a loved one who you haven't seen in while, it's safe to say we all need a little extra love this Valentine's Day.
To kick off this loving season, we sat down with local chefs Susan and Jeff Mall, owners of our favorite artisan chocolate company, Volo Chocolate, to get their take on how they enjoy wine and chocolate.
Much like wine grapes, cacao has terroir that's specific to how and where it's grown. Certain flavors in fine chocolate come from the region where the cacao is grown. Based in Sonoma County, Volo crafts delectable bean-to-bar handmade chocolates that pair perfectly with our Olema Sonoma sourced wines.
For those looking for inspiration on how to spread the love this Valentine's Day or treat yourself to a little extra indulgence, Olema wines paired with Volo chocolate complete any celebration.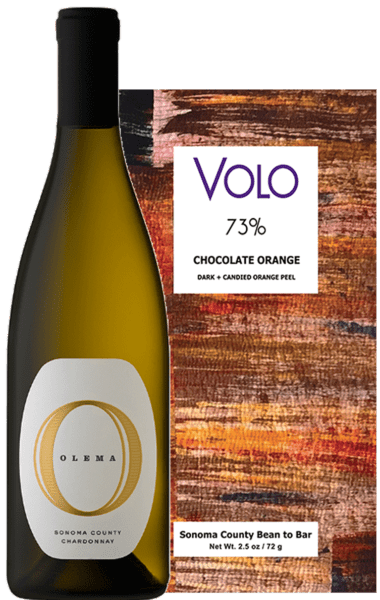 Olema 2019 Chardonnay + Volo 73% Chocolate Orange
The wine, with its blend of bright acidity on the front and creamy richness on the back really mirrors this bar. The Volo Chocolate Orange has pieces of candied orange peel that Susan and Jeff make from their own home grown oranges. The orange delivers a bright punch of citrus at first taste. Then the richness of the cocoa butter takes over giving a nicely balanced and creamy finish. This is a great pairing for people who can't imagine pairing a white wine with chocolate!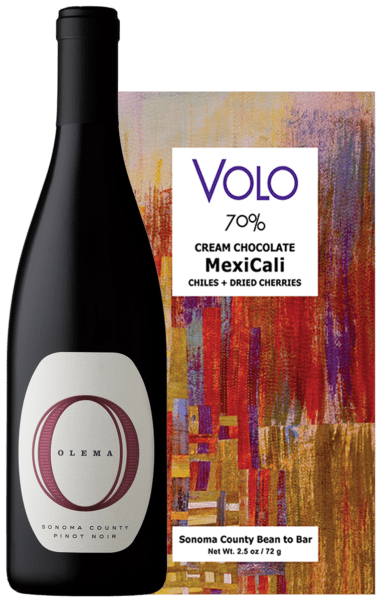 Olema 2019 Sonoma County Pinot Noir + 70% MexiCali with Chiles & Dried Cherries
The chiles in this bar are very mild and deliver a slight warmth to the palate. This bar is made with Cacao from Haiti which, on its own, has notes of toasted nuts. There are several flavor parallels between this bar and the wine. Volo adds a pinch of cinnamon to all of their chocolate. The MexiCali has a touch more. The cherries, mild spice & cinnamon in this bar are an almost seamless transition into the wine.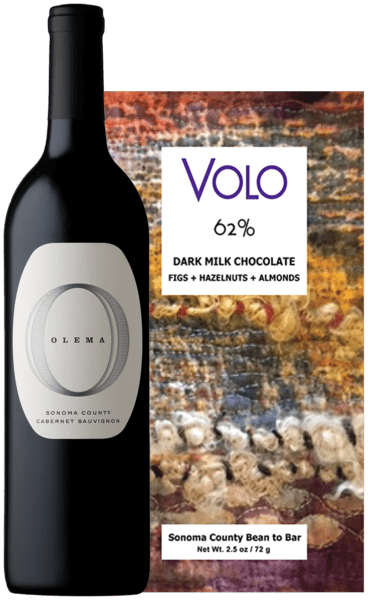 Olema 2018 Cabernet Sauvignon + 62% Dark Milk with Dried Figs & Roasted Hazelnuts
Susan and Jeff bounced between a couple of their bars before settling on one. At first their palettes went to their 73% Deep Dark Chocolate made with Cacao from Guatemala. That bar has a natural, rich red fruit flavor in the cacao that really goes great with Cab. Then they thought that, like the Pinot Noir, the MexiCali would be good. Then they tried the 62% Dark Milk with Dried Figs & Roasted Hazelnuts. Truly it is the concentrated fruit of the dried figs along with the richness of roasted hazelnuts works great. The Cabernet, with it's notes of cocoa and mild oak, was made for a chocolate bar with toasted nuts. The figs seal the deal.
Clink here to view our current wine selection.
Volo chocolate can be purchased and shipped straight through their website.