From France with Love
What makes Provence rosé Provence rosé?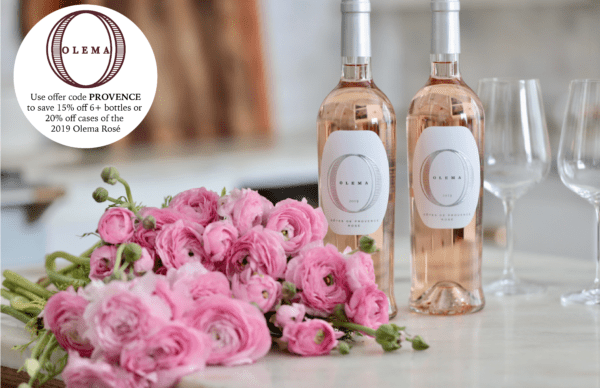 Meet Jean Compeyrot, our partner in Provence who helps us produce our Côtes de Provence Rosé. Jean talks with us about his inspiration, meeting Olema proprietor John Harris in Bordeaux, their quest to produce an authentic rosé from the birthplace of French rosé, terroir, family and celebrating an important milestone in the midst of a pandemic.
Raise a glass with Jean who has a lot to celebrate, the 2020 vintage, his marriage and a baby on the way!
SHARE THE LOVE
Use offer code PROVENCE to save 15% off six bottles, 20% off cases on the 2019 Olema Côtes de Provence Rosé
(limited quantities available before the 2020 vintage arrives)
You come from a multi-generational winemaking family. Did you always know that winemaking or working in the industry would be your path? Did you ever consider other ventures? 
When I was a student, wine was part of my family story but I was not much into it. I liked agriculture and wanted to work in development in Africa. In my Agronomy engineer school I was the member in charge of the money of the tasting club. I fell into wine with this club. The diversity of the French terroirs, the producers, the stories, the friendship you create with the wine. It's not just about making great wines, it is also about connecting people. 
You met John Harris when he was living in Bordeaux. Is there a story behind how you two connected? 
We did! I used to babysit his children. When I came to Napa Valley to work as an intern for Opus One, I was living at John's house. John is my "Father" from America. He taught me Entrepreneurship and Optimism! Everything is possible when you work hard. 
Producing an authentic rosé from the birthplace of French rosé, Côtes de Provence, is important to the Olema team. Can you share your perspective on the history and legacy of Provence rosé. 
Provence has a very long history with wines. They made wine in this region before Bordeaux: in 600 BC. The Provence rosé was famous during the 17th century. The French King Louis XIV especially loved it. At that time it was called claret: between red and rosé. At the same time, the Bordeaux claret was loved by the English. The legacy of the Provence rosé comes with the 20th century. After the phylloxera issues, producers of this area worked on a specific appellation to make rosé with the specific varieties of the region: Grenache / Syrah / Mourvèdre / Carignan. In 1951 the appellation was born. 
What makes Provence rosé Provence rosé ? 
The varieties: Bordeaux cannot produce the quality of the Provence rosé with Merlot and Cabernet. The terroir: Shale / Red Sandstone / Specific genetics of the vines that are adapted to this terroir / The difference between hot day and cold night / the wind coming from the Mediterranean sea. The experience of the people:  They produce rosé like we produce white wine in Burgundy. It's not about doing a "saigné" to have a better red wine but doing a great rosé. Rosé is very technical, if you don't have the experience, you will produce a very bad rosé. If you do a blind tasting of Provence rosé and white wine from Provence you might have a surprise. Some Sommeliers think that rosé is not a "wine." They are very mistaken. 
What makes the growers, vineyards and grape varieties of Ville de Vidauban remarkable? 
As we discussed: Quality of the Terroir and Experience. 
Producers from Vidauban live in the square made by four villages: Lorgues / Vidauban / Les Arcs / Taradeau. In this square you can find top producers such as Domaine Ott, Astros, Roubine, Etc. It is not a coincidence: terroir! Having several producers that harvest in several places offers the possibility of creating several blends and work on the style that we want. 
Why Olema? What makes this team the right partner?
First because of John! After I created my company with my brother, I told John we need to create something together. He had this idea of Olema Provence Rosé. I said let's do it! Second, because of the team: working with Bob, Melissa, Tony, Jesse, is just amazing. Everytime they come to France, I know that we will have a great time. I have several amazing "souvenirs". With Jesse and Melissa, we did a tour of the French Vineyard, starting with Saumur, going to Sancerre, Beaujolais, Cote Rotie, Chateauneuf and Provence, in three days. Loved it!!! With Bob and Tony and a GREAT bottle of Gigondas discussing family. With John, Jesse, and Bob and the happiness of our first blend! 
Key words: Professional, Friendship, Family, Hardworking, Innovative. 
What are your thoughts about the 2020 vintage of the Olema Côtes de Provence Rosé? 
Scared during the winter and the beginning of the growing season. We had hard rain and frost. Happy at the end of the harvest because we had, at the end, the volume and the quality we wanted: complexity, acidity, color. What I love about the 2020 Olema Côtes de Provence Rosé vintage is its creaminess, freshness and silky touch. It's a great vintage.
On a personal note, you were married in 2020. Congratulations!  We know that John and other guests were unable to attend due to the pandemic. Would you be willing to share your thoughts about celebrating a milestone in these extraordinary circumstances? 
Thank you!  It was sad that he couldn't come. Our wedding was postponed from the 13th of June to the 4th of September. All our partners: catering / priests / tent men stayed with us. Our families supported us. We are very lucky because we had the people we love with us and the weather was with us in Saint Emilion. We didn't sleep!
SHARE THE LOVE
Use offer code PROVENCE to save 15% off six bottles, 20% off cases on the 2019 Olema Côtes de Provence Rosé (limited quantities available before the 2020 vintage arrives)