Perfect Cab Pairing: Cabernet Sauvignon Mushroom Risotto
You know when you have a liiiittle bit of wine left – not enough for a whole glass, but too much to leave? Meet our go-to recipe that features the Olema Cabernet Sauvignon.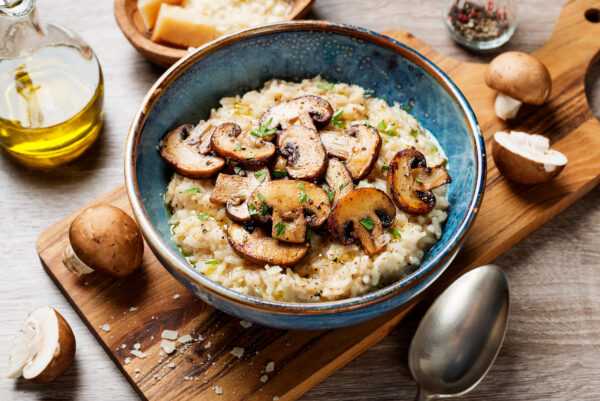 Recipe:
Ingredients
5 1/2 cups chicken stock, preferably homemade

2 tablespoons extra-virgin olive oil

1 small onion, finely chopped

Salt and freshly ground pepper

1 1/2 cups arborio rice (10 ounces)

1/2 cup dry red wine

2 tablespoons unsalted butter

1 pound mixed wild mushrooms, thinly sliced

1 shallot, minced

1/2 cup freshly grated Parmigiano-Reggiano

2 tablespoons chopped flat-leaf parsley
Directions
In a medium saucepan, bring the chicken stock to a simmer. Keep warm.

In a large saucepan, heat the olive oil. Add the onion, season with salt and pepper and cook over moderate heat, stirring, until softened, about 5 minutes.

Add the rice and cook, stirring, for 1 minute.

Add the wine and cook, stirring until the wine is absorbed.

Add 1 cup of the warm stock and cook over moderate heat, stirring constantly, until nearly absorbed. Continue adding the stock 1/2 cup at a time, stirring constantly, until it is nearly absorbed between additions. The risotto is done when the rice is al dente and suspended in a thick, creamy sauce, about 20 minutes total. Season with salt and pepper to taste.

Meawhile, in a large skillet, melt the butter. Add the mushrooms and shallot, season with salt and pepper and cook over moderately high heat, stirring occasionally, until softened and browned, about 10 minutes. Scrape the mushrooms into the risotto and stir in the cheese and parsley.

Serve immediately — with a glass of Olema Cabernet Sauvignon to pair, of course!

The Wine: Olema Cabernet Sauvignon
Use code RISOTTO to receive shipping included on your order! 
The 2021 Olema Cabernet Sauvignon opens with aromas of black cherry, plum and hints of cedar box. Full-bodied and balanced, this wine shows flavors of wild berries, licorice, and black olive on the palate. Silky tannins are matched with a rich fruit core throughout the long finish.
Tags: wine pairings, wine recipes, food and wine.