Napa Valley Local Favorite
Meet Jude Wilmoth and Meagan Rounds Owners of Cook St. Helena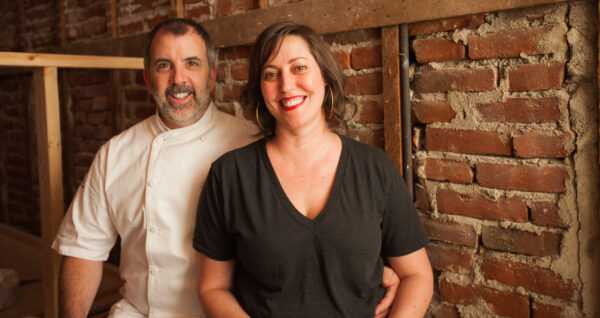 With the long awaited and much anticipated reopening of California on June 15th, we sat down with Jude Wilmoth and Meagan Rounds chef/owners of one of our favorite local restaurants, Cook St. Helena to chat about their passion, perseverance, community and on surviving the pandemic and devastating wildfires that took their home, and of course, delicious food and wine!
Jude shares one of his favorite family recipes with us incorporating the summer season's fresh heirloom tomatoes and rich crescenza cheese. While simmering, we recommend sipping on a glass or two of Olema Chardonnay, its bright lemon zest acidity pairs beautifully with this dish. And with so many of us eager to travel again, be sure to stop in and visit Jude and Meagan at Cook St. Helena when in Napa Valley!
Click Here for Chef Jude Wilmoth's Crescenza Cheese Risotto with Heirloom Tomatoes Recipe
When we travel we always search for the restaurant where the locals eat. This is very true to Cook St. Helena. What was the inspiration behind opening the restaurant? 
Growing up, my mom made everything from scratch, and it really inspired the way I went about cooking when I first became a chef. Plus, it's California – how can you NOT use all the fantastic produce that is so accessible here! When I opened Cook St. Helena in 2004, the "Celebrity Chef" was becoming a thing. I wanted to create something where we focused on the food – the simple but fresh ingredients, the basic preparation – we called it Cook because that's what we're doing – cooking – we're not here to be a celebrity. 
Jude, you're a Napa Valley native. What was it like growing up in Napa Valley? What were family dinners like? 
There are actually eight kids in my family – Napa Valley is a farming community at its core. Growing up, that was a lot more recognizable in this area; I loved it. In my family, you either cooked or did the dishes. I always chose to help my mom cook. My siblings and I still talk about our Sunday dinners – you should see the family text thread – a constant stream of photos with whatever we are all cooking. 
Did you always aspire to be a chef, or did you consider other vocations?
My first jobs were at Taylor's and Tra Vigne – at Tra Vigne, I was a busser, and I was making great money for a 20-year-old! But I didn't see myself staying in restaurants as a busser or a server long term. I asked Chef Chiarello if I could move into the kitchen, and he started me on salads. From there I told myself I wanted to be the head chef in a restaurant by the time I was 30 and that I wanted to have my own restaurant by 35. I opened Cook St. Helena exactly two months before my 35th birthday.
What's your go-to easy, midweek, family dinner?
Weeknights are BUSY for us! But I always take a break to have an early dinner with my wife and kids. We try to keep it simple since we don't have a lot of time to prep before going back to work. We always cook on the weekend and make extra to either eat it for a second meal or modify it into something new. Grilled meats and vegetables will always go into a big salad or tacos; soups and chili are also good to freeze for later. And, take out from Cook St. Helena is definitely the kids favorite! 
The past year has been extraordinarily hard for you with the pandemic and the wildfires, but we're always impressed by the Napa community, its resilience and strength to move forward. In the wake of the devastation, what has stood out most for you?
Last March, when this all started, and we had to shift to take out only, I was touched by the number of people ordering food from us multiple times per week. People would come in to pick up their order and tell me they were going to order as much as possible to be sure that we would make it through. When everyone was struggling, it meant a lot to us to see this community doing whatever they could to keep Main Street businesses afloat. 
After a rough Spring and Summer, we lost our home in the Glass Fire at the end of September. I always knew this to be a generous community – I don't think a day goes by where we don't donate a gift certificate or prepare a meal for someone who just had a baby or is having surgery, but to be a recipient was genuinely heartwarming. People came to our aid remarkably, and we are truly grateful.